Chicken Marbella is a delicious dish that has been around for a long time, it is one of the specials that are found in the silver palate cookbook which is a custodian of lots of all-time classic dishes.
It is a kind of chicken recipe you probably grew up eating but then it cannot categorically be said that everyone has a recipe for chicken Marbella.
Even if you do happen to have the 1982 recipe (thanks to your parents or friends), you might run short of ideas to pair your chicken Marbella with that will give it a unique, classy, and noteworthy look when served.
So let's take some time to find out all the lovely ways to dish out your chicken Marbella in the best ways possible.
Brief History Of Chicken Marbella-The Silver Palate
It all started in the early 1970's, Julee Rosso who worked at an advertising company as at that time met Sheila Lukins who was a caterer through a customer of hers.
They both later decided to start a business whereby meals were prepared and customers could walk in and buy themselves a plate at their comfort and that then brought about the creation of "The Silver Palate".
It said that the restaurant was situated quite close to the central park at that time. The collaborative business grew higher and higher, offering packaged food with the company's brand name.
In 1981, the Silver Palate Cookbook was published by the joint efforts of Lukins and Rosso and the creation of that cookbook changed cooking in America as a whole.
The chicken Marbella recipe was and still is one of the best to come out of it.
Chicken Marbella recipes
1. The Classic Chicken Marbella
Now we definitely can't name any other recipes without listing the original thing first. If you want the very traditional form of preparation following the basic chicken Marbella recipe step by step then this is it Thesilverpalate.
This recipe uses whole chickens. However, you can substitute some of the ingredients with what you have available to you. I have added bay leaves and lemon juice to create a more renowned flavor.
2. Slow Cooked Chicken Marbella
Preparing your chicken Marbella in a slow cooker allows the taste to sink into it, although it takes a whole lot more time.
It also saves you the overnight refrigerating process so you just get your ingredients and start the cooking on the go.
This Marbella chicken dish recipe by Woman's Day is an all-time favorite of mine. Who doesn't love juicy chicken? The deep brown color of the chicken and its scent are just heavenly, give it a try.
3. Boneless Chicken Breasts Marbella
This is an offering to those who will rather have their chicken Marbella boneless.
It gives you the advantage of slicing up the chicken in different ways and not having to battle with the bones.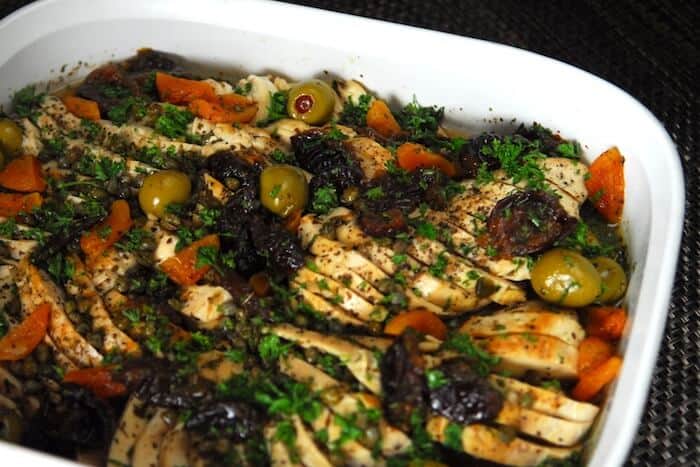 This recipe by A passionate plate has a lot of similarities to the original recipe like most others but it gives directions on how to exclude the bones and use chicken breasts other than the thighs. For this recipe, you will need olive oil, brown sugar, white wine, and red wine vinegar. The toppings include prunes, apricots, Spanish green olives, capers, garlic, oregano, and parsley.
Best Side Dishes For Chicken Marbella
1. Couscous
This just had to be my number one pick for so many reasons, not only does couscous and chicken Marbella give a good sight when paired, there are numerous ways you can choose to design your couscous to show how skillful you are in the kitchen. This is one of the best sides if you're looking to save time.
Another exciting thing about it is that there are a lot of couscous recipes, so you can choose the one that goes with the kind of chicken Marbella you want to cook, I prefer this recipe by Thekitchen because it is plain and goes with any kind of chicken Marbella.
2. Risotto
Risotto is light and like the couscous, it can be designed and prepared in a lot of ways and with any kind of addition that compliments your chicken Marbella. You can swap the white rice for brown rice or wild rice pilaf mix depending on what you like.
If you do not mind having your Chicken Marbella with a side this that is equally quite soft then this is for you, I went for this recipe by Fine cooking because it is basic and it is quite easy to prepare, it complements the long hours spent on the chicken Marbella.
3. Spinach Salad
Chicken Marbella is a dish that is high in fats and calories because of the ingredients and the chicken so it makes a lot of sense to pair it with a dish that has vegetables.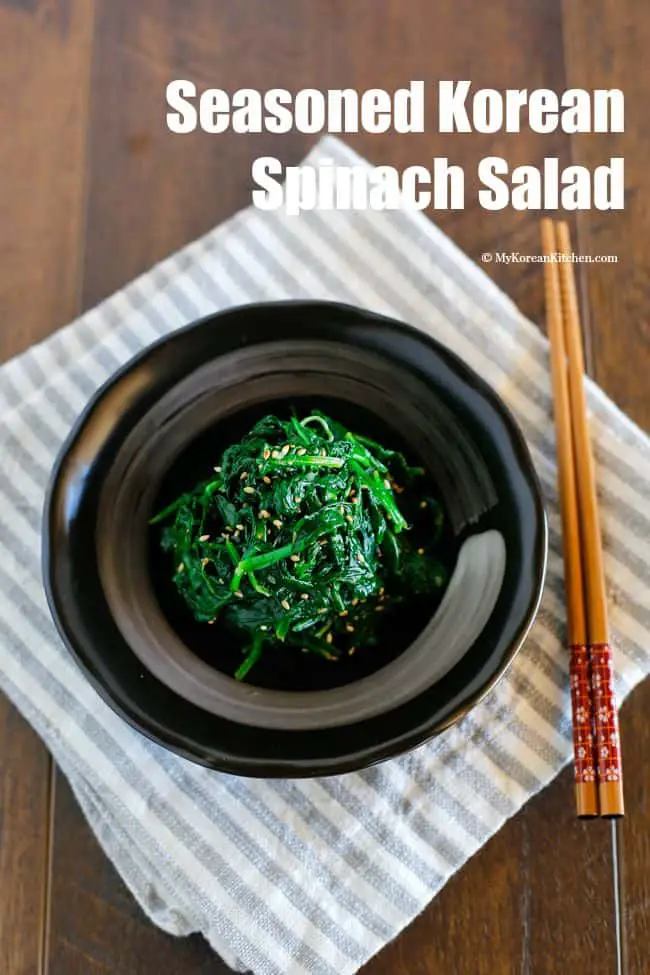 This spinach green salad also offers a good colour burst with the chicken Magellan when designed and served. I like this recipe by Korean kitchen because of the simple outcome.
I also like the fact that the spinach gets boiled a little, I feel this gives it a more chewable soft texture but if you like it fresh and uncooked, you can make your substitutions, give it a look.
4. German Potatoes Salad
One thing that keeps getting me about a well prepared German potato salad is the vinegar mix and sliced up pieces of thick bacon, you never get tired of it and it keeps you going back for more.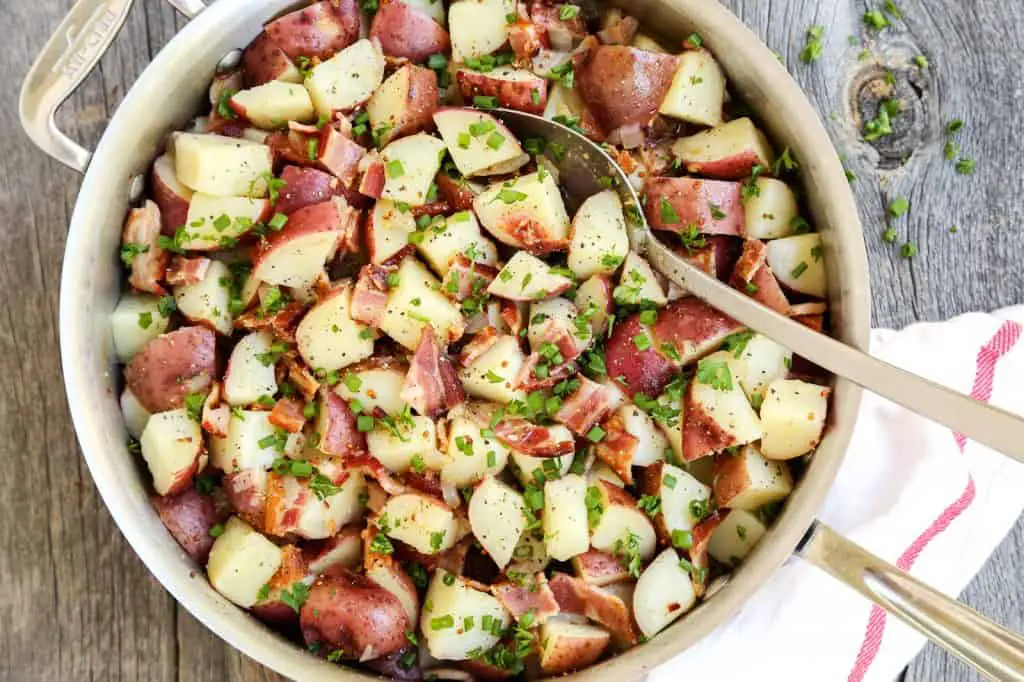 Serving a few scoops of this with some chicken Marbella will do some good to any tummy. This recipe by Thepioneerwoman is one of the best and you can try it and tell for yourself.
I personally leave out any extra ingredients used most times and you can tweak and reduce things to fit your kind of chicken Marbella. You could even turn this recipe into creamy mashed potatoes using a hand mixer and some room temperature cream cheese.
It's a Feast!!!
Chicken Marbella is a dish that most people find challenging because of the belief that it can easily come out wrong or the complicated combination of ingredients and spices but that is hardly the case.
Most Chicken Marbella recipes hold a lot of similarities so all you have to do is to follow a well-picked recipe and bake in a beautiful serving platter and you'll have an incredible meal.
Don't be afraid to mix as many ingredients as are needed when cooking because the end result is usually worth it. Also, note that chicken Marbella is very time-consuming so you should start your preparation a day ahead in order not to run short of time to develop its savory flavors.
If you have any recommendations or comments about the recipes discussed above, feel free to share. Time to cook.