There are some dishes that we sometimes forget are in existence especially if they aren't foods that are part of our routine, take potato soup for example.
I know right, where has this long lost soup been? It has been around the corner waiting for me to introduce some of its sumptuous recipes to you and I am always going to do that, in fact, I am always happy to do so.
Mashes potatoes or plain boiled ones are common for us, and some people take potatoes every weekend, but not everyone knows how to make it into a soup that equally tastes as well made as mashed potatoes.
Being that potatoes are heavily starched, there are ways to pair them off to make them healthier and somewhat easily digestible than eating them on their own.
So, for today, we are going to pick out those recipes that make a great balance for potato soup.
Sweet and easy Potato Soup Recipes
Traditional Potato Soup
For a very traditional potato soup, use this recipe by Irish American Mom, they made use of Irish potato which is perfect for the recipe, but you can make use of red potatoes too if you have some.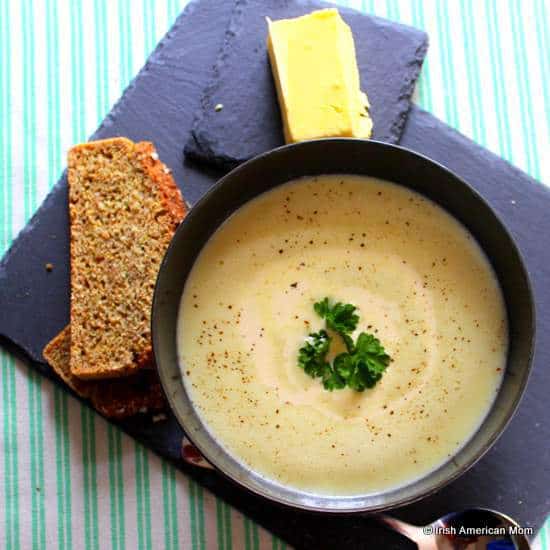 The ingredients used do not exceed six in number, and they are all you need for a very basic and easy potato soup.
Make it for yourself and testify to the goodness and simplicity of this potato soup, I really cannot say more.
To puree the potatoes, you will need an immersion blender to get it in the right form.
There is no part where you stir in the flour so don't look forward to it; this is one plain potato soup that takes you way back.
Roasted Potato Soup
If you enjoy the taste of herbs in your soups and stews then you will love this roasted potato soup by Healing Tomato.
The combination of fennel and dill gives the soup a richly flavoured and appetizing aroma not to mention all the other feelings the chef talked about (good sleep and all…wow).
This recipe makes use of a lot of ingredients as opposed to the initial one so for those who want something more than just simple, this is the recipe for you, even though they are more, they are still everyday ingredients you can source for around, nothing out of the ordinary.
It would have been really nice if they had step by step pictures to guide you or a video at most, but it's all good, follow the explanations given one at a time and you should be fine.
Chunky Potato Soup
This recipe by The Hungry Hutch gives you the chance to make your soup in a more chunky form to take a break from all the pureeing for a bit. Oh! I just noticed the rainbow chard, what a lovely lovely vegetable to cook with.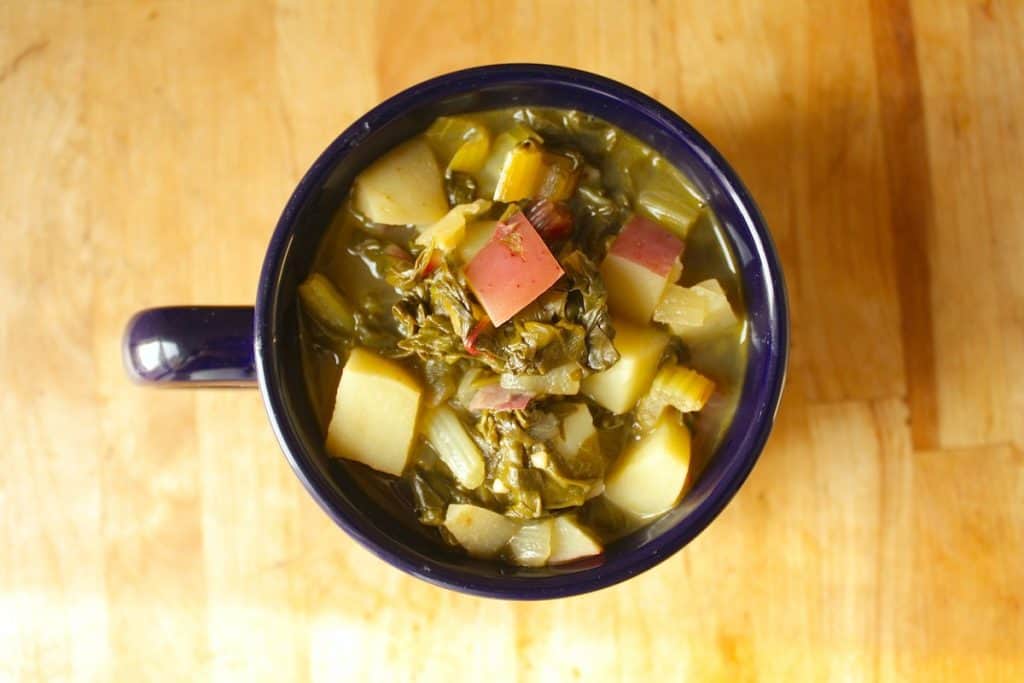 If you aren't familiar with it, rainbow chard is a Mediterranean kind of vegetable which can be green or red; it is totally awesome when cooked and it is packed with all the nutrients vegetables should have so it's a plus for this recipe.
Looking at the pictures on the page along gives a hint of how simple yet tasty the dish is.
As they said, this recipe allows the potatoes to blossom with the chard complimenting it, no flour and no cream, just a very typical soup to lighten up your day.
Don't have chard? Use some beet greens or spinach; it will work well for the recipe in place of the rainbow chard.
Side Pairs With Potato Soup (Chunky Or Pureed)
Garlic bread
If you have that very thick, heavy, loaded potato soup, garlic bread makes the perfect side dish.
It tones down the whole thing a notch and allows you enjoy the main potatoes without over crowding the flavours. Use this recipe by Momcrieff for fresh garlic bread.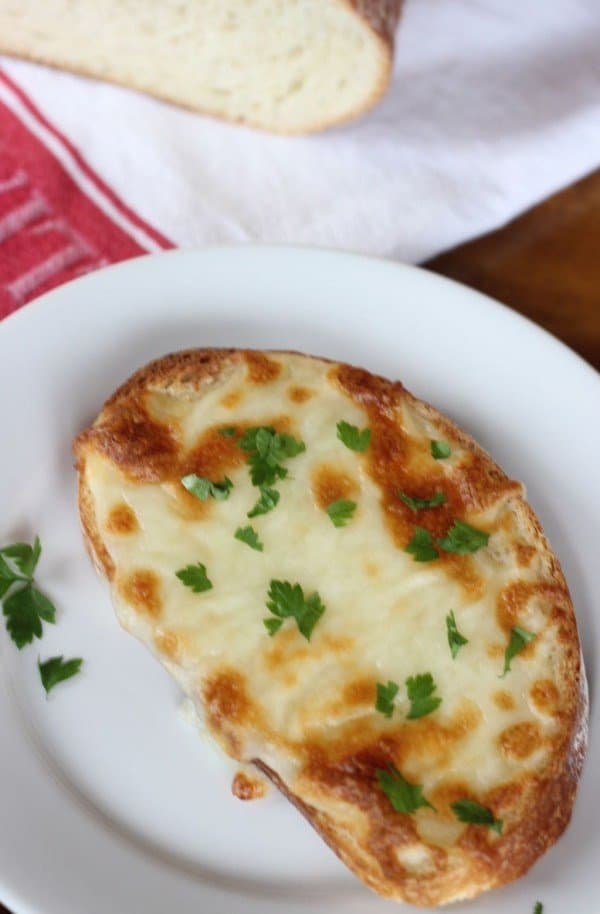 I like this recipe because you have the option of skipping the part where you add the mozzarella cheese if you want, excluding it makes the bread lighter and adding it makes it cheesy garlic bread so whichever way you want it, you can have it.
The use of fresh garlic which you fry into the already melted butter makes the taste more intense in the bread; this is quite different from most other garlic bread recipes that just sprinkle the garlic powder over the bread and bake.
I know the thought of the garlic in your breath is scary but with the quantity of garlic used, it shouldn't be pronounced, if you have fears though, you can make it less.
Kale Salad
We all know that green salad always works with potato soup but rather than having any green salad, make some creamy Mexican kale salad with this recipe by Ifoodreal.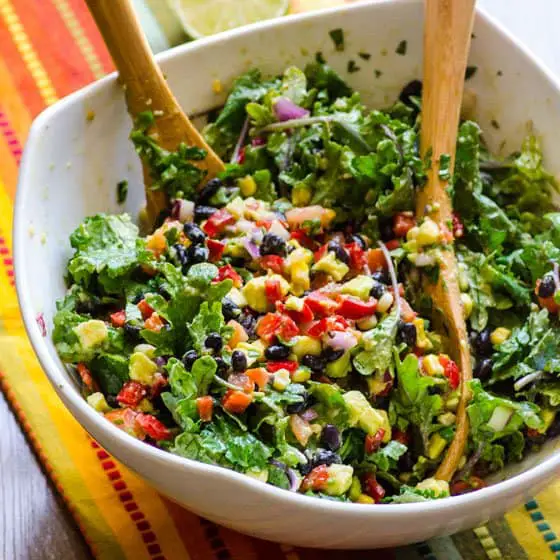 This healthy salad has the right combination of colourful vegetables and herbs that give a simple to prepare salad masterpiece.
Calling this a kale salad is just for the sake of the name on the recipe page, this is more of a jumbo mix salad with almost equal amounts of all the vegetables used.
To make the dressing, you will need a food processor or a blender. I know the dressing is to give the whole salad a notch of additional flavours but you might just discover that it is fine without it, all in all, preference is what matters the most.
Soupy Days!
There are some days you just crave soup in any form and in any flavour with or without a lot of heat, during those times, turn to a plate of potato soup, it just might be your most needed companion at that time, now I am laughing.
Potatoes are very filling and nutrient giving vegetables, with every bowl of potato soup you take whether pureed or chunky, you still get a handful of calories but the number of calories can vary significantly depending on how you prepare the soup.
If you are on a diet watch, go for the lightest ingredients, avoid using much cream or flour, use more vegetables and lastly make the soup you will thoroughly enjoy!