My mom still has her old meat tenderizer. A simple wooden tool with a heavy, toothy head and a long, slender handle. It works just fine, except when the head flies off on your backswing and wreaks havoc in the kitchen!
She's overdue for an upgrade. From heavy mallot-type tenderizers to more complex contraptions that create a series of small punctures in the meat, the there are many great options of meat tenderizers on the market today. Read on to learn more about these products and some of the best you can buy, or go right ahead to the Amazon listings from the table below to see prices and reviews!

Dimensions
6.3 x 4.6 x 1.7", 10.4 oz.
Material
Non-stick coated metal, Silicone grip
Aluminum, with silicone grips on handles
Stainless steel needles, plastic handle
Stainless steel needles, plastic handle
Meat Tenderizer Uses
The only thing I ever used my mom's meat tenderizer for was a "recipe" I learned from my Grandpa. Put a bunch of graham crackers in a plastic baggie, whack the heck out of them with the mallet, put the crumbs into a bowl and stir in milk until you have a milky mush. While it is a delicious little snack, this is not the primary function of a meat tenderizer.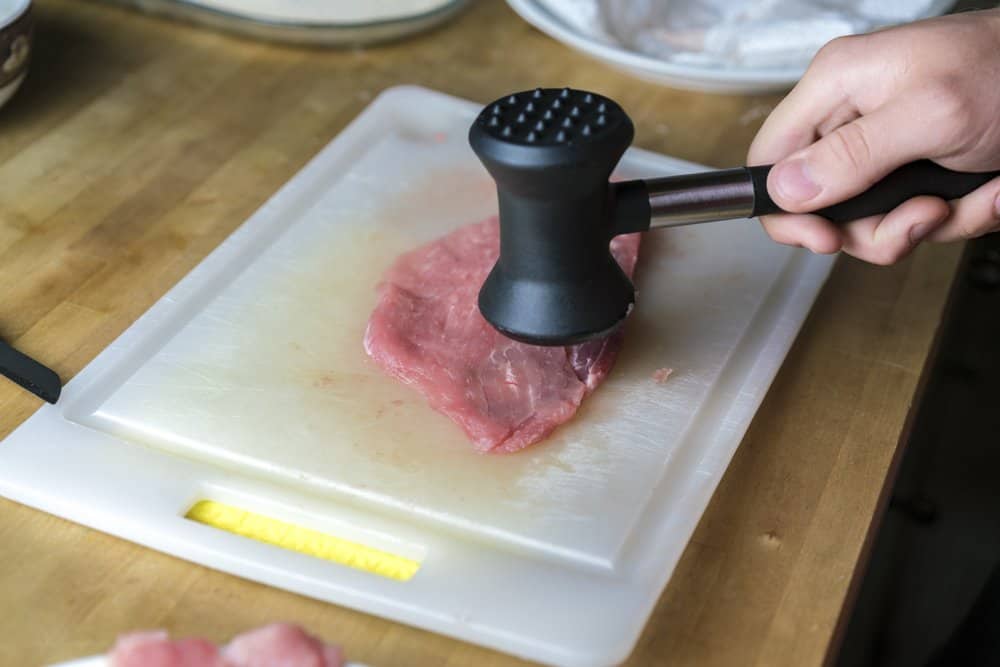 As the name suggests, the main purpose of a tenderizer is to … tenderize, which it does by breaking down the fibres in the cut of meat. This is especially useful for cheaper, tough cuts of meat. A focussed pounding can soften up that eye round steak so it feels like a more tender cut, but doesn't cost as much (learn more about cuts and tenderness here).
Some tenderizers can even out a piece of meat so it cooks more evenly. Certain tenderizers also help prep the meat for marinade by puncturing small holes into the flesh that soak up the marinade.
Types of Tenderizers
There are two main types of tenderizers. One is the classic mallet-style tenderizer. With this type of tenderizer, the weight of the mallet plus the force of your hammering action work together to tenderize the meat. These mallets usually have a flat and a toothy side so they can both tenderize and flatten or even the thickness of meat.
These mallet-style meat tenderizers exist in a variety of materials: wood, various types of metal, plastic or plastic coating, and even stone like marble.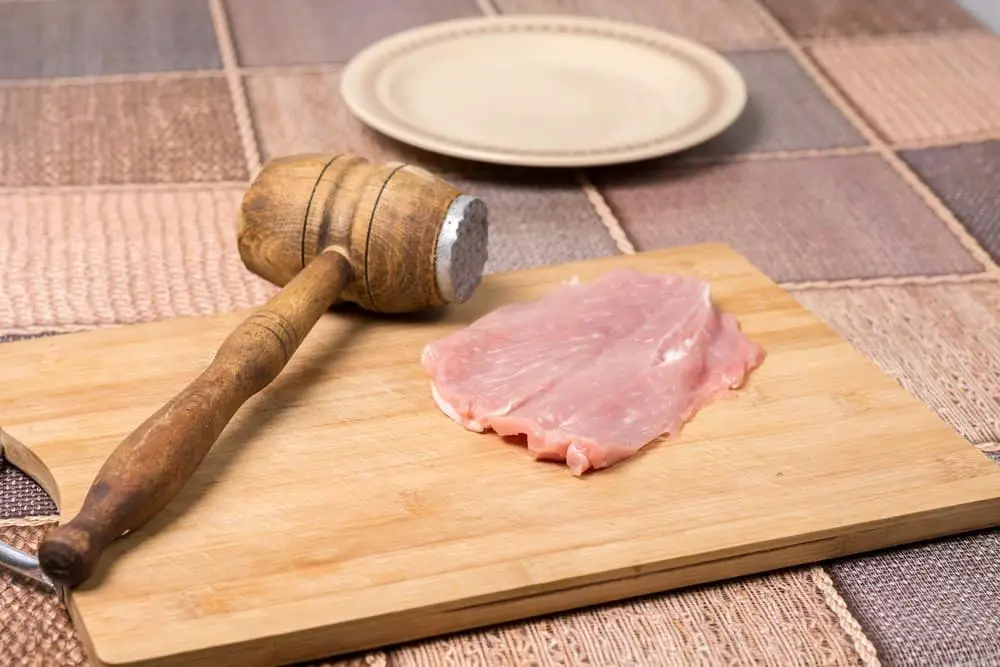 The other type of tenderizer is a more complex device which uses a spring action to press many small, sharp needles into the meat. This action cuts through the long fibres and creates tiny holes deep into the meat that allow more air and heat in during cooking, and will also help a marinade penetrate deeper into the meat.
The body of this type of tenderizer is usually made of plastic, while the blades should be made of stainless steel. These needles must be very sharp, so the gadget should have some safety features such as a cover for the blades when not in use.
Which type of meat tenderizer is better? I think it depends mostly on your intended use.
The mallet-style tenderizer is better suited to the task of evening out and flattening meat without making a overly soft—a risk you run with the needle style tenderizer. The mallet tenderizer can also serve other functions, like pounding up nuts (or graham crackers!), or other mashing/crushing tasks you might need to do in the absence of a mortar and pestle. Every once in a while when cooking, I'll find a random need to whack something—like when trying to break up something frozen. Hello, meat tenderizer!
But the needle type tenderizers are a great option if you do a lot of marinading and grilling. If you have invested in specialized equipment like a smoker, this type of tenderizer would be a great tool to further enhance your grilling game.
Meat Tenderizer Options
Now that we've discussed some of the uses and types of tenderizers, let's look at some specific products.
This mallet-style meat tenderizer is the top-rated meat tenderizer on Amazon. It features OXO's signature non-slip grippy handle—an especially useful feature for a mallet. The head is made out of a weighty metal but features a non-stick coating and has both a smooth and a textured side.
As the top-rated product in its category, there is an overwhelming amount of praise for this item. Users find it is comfortable to hold and doesn't feel too heavy, but is solid enough to do the job. People also really like the non-slip head, as it is easy to clean, and there are no reports of the coating wearing off, even after dishwashing.
One consideration is that this tenderizer may feel small if you have large hands. One user reported that his fingers regularly smack down on the work surface when using this as the head is too small to provide enough clearance.
Another consideration is that I am not certain of the material on the head—whether it is plastic coated or a non-stick Teflon type coating. However, because there's no heat involved when pounding meat, it isn't likely to be an issue.
PROS
Comfort-grip handle
Versatile with both flat and textured sides
Durable
Dishwasher safe
CONS
May seem small in large hands
Coating of head is unknown
This is another mallet-style meat tenderizer similar to the OXO model. This is a more modern design, showing off more of the metal in the construction (do note, the Amazon title calls it "stainless steel" but the description states that it is made of aluminum). It has a slender strip of silicone to provide grip on the handle, in either red or black. The head has one flat and one textured side.
I like that the head and handle are one solid piece of metal, which reduces the likelihood of the head breaking off. Most reviewers have high praise for this tenderizer. They find it feels solid and does a good job for the intended function.
The primary complaint is that this tenderizer feels too light to some people. They find they have to use more effort than they'd like to get their meat tender, rather than the tool doing the work. This tool must be washed by hand only as it can get damaged in the dishwasher.
PROS
Non-slip handle
Unibody construction
Versatile with both flat and textured sides
CONS
Lightweight
Not dishwasher safe
This is a needle-style tenderizer that has 48 stainless steel blades and a plastic body construction. It's a generous size, so it will cover a lot of area and seems like it would be comfortable to hold. It has a cover to place over the blades when not in use, and the blades retract behind a plastic guard plate so they are not sticking out even without the cover, which is a nice safety feature.
This item gets very high marks by Amazon users. People find the blades are very sharp, and the item overall feels good and sturdy.
The only real complaint here is that it can be hard to adequately clean without taking it apart, although this is a common issue with this style of tenderizer. You'll want to be sure to clean it right away so nothing gets crusted in between the blades or in the recesses.
PROS
48 stainless steel needles
Large size
Safety features such as plastic cover and guard
CONS
Difficult to clean
Serves one function
Jaccard is the originator of this needle style of meat tenderizer, and they still make the best one according to people on cooking forums and Reddit. This tenderizer has 48 stainless steel needles and a large plastic handle, with a matching cover to fit over it when not in use. The blades sit behind a plastic plate as a protection when the cover is not on.
Cooks, including professionals, rave about this product. They find it really can transform tougher cuts of meat such as London broils and pork chops to make them much more tender than normal. People note that this tenderizer helps reduce shrinkage and keeps the meat moist as well.
Another plus is that the customer service for this company seems to be quite responsive, which is nice if you run into any issues with the item.
The primary words of caution are about how effective the tool is. It takes some getting used to so you don't over-tenderize your meat to the point of it loosing too much texture. People also warn that it is difficult to clean, especially as the small blades are indeed very sharp.
See this gadget in action:
PROS
48 stainless steel needles
Very effective at tenderizing
Large size
Responsive customer service
Safety features such as plastic cover and guard
CONS
Difficult to clean
Serves one function
Choosing the Right Tenderizer for Your Needs
There are a great number of excellent meat tenderizers available today that definitely beat the old wooden ones that were prone to falling apart like my mom's!
If you're really into grilling/BBQ and cook a lot of meat, a needle tenderizer may be the way to go to get that ultra-tender steak, no matter what cut of meat you buy. The KLEEMO and Jaccard appear to be pretty comparable, but I think the Jaccard wins due to their helpful customer service. It's good to buy from a well-known company so you can get help with your item if you need it.
If you want the versatility offered by a mallet style meat tenderizer, the KitchenAid tenderizer has a nice, streamlined look, with a solid construction. If you like grippy and non-stick, though, the OXO Softworks is a well-loved tool, too!
Do you have some out of the ordinary uses for your mallet-style meat tenderizer? Tell us your stories in the comments!