Are you are a fan of soups? If your answer is no, then I guarantee that you would be after the discussion of today and the soup in focus today is Clam chowder. It is the name given to a variety of soups involving the use of clam and vegetables with other ingredients.
Soups are a very traditional and indigenous kind of dish. They are incorporated into any diet, and there are numerous ways you can prepare them. It is sweetness served in a bowl, hot and steaming.
You might have tasted some clam chowder soups which haven't been so convincing in the past, so we are going to discuss some of the best recipes I have come across.
We will also see some sides for the soup but first, let's help you know your chowder.
How Did Clam Chowder Come About?
It is a generally accepted fact that clam chowder started its reign in New England when British and French migrants settled there and started the cooking of meat in large pots for feeding.
With time, the gradual introduction of milk into these cooking forms began to spread after the dish had become a staple in those areas around the early 1700's. Another type of clam chowder involving the inclusion of tomatoes was invented around 1934-1939. Chowder refers to thick soups.
Three Classic Clam Chowder recipes
1. Leek Clam Chowder
Although some people would rather just have their clam chowder plain, I think adding vegetables to your clam chowder makes it more inviting and which better vegetables than celery and leeks.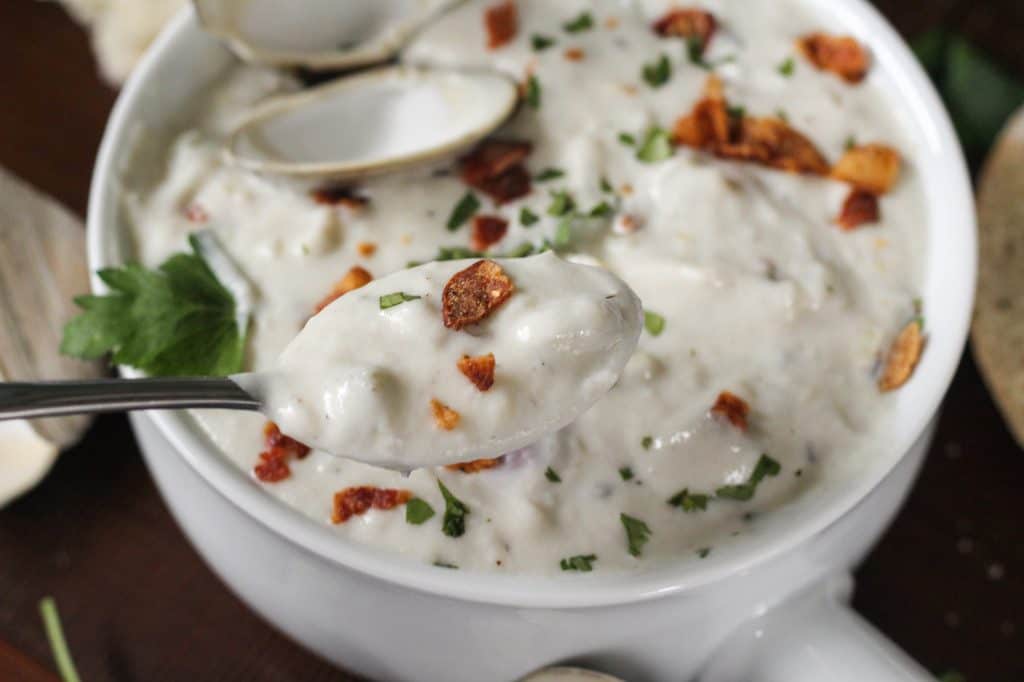 If you haven't tried it out before, this recipe by The chunky chef will make you do it right away. She calls it "knock your sock off clam chowder", and it did knock my sock off. You can make any necessary adjustments If you wouldn't want yours to be so thick, it has a picture guide for first timers so you know exactly how it should turn out. It is one sweet clam chowder.
2. Manhattan Clam Chowder
Now, the major difference between the Manhattan clam chowder and the North England type is the inclusion of tomatoes, yes, it's as simple as that.
If you like the tomato taste in your clam chowder, this recipe by Cook the Story has got you covered. It is also best if you are in a super rush as the total cooking time takes just fifteen minutes.
If you would prefer the fresh clams, then you can substitute that in the recipe and go for it all fresh.
Realted: Finding the Very Best Brand of Canned Clam Chowder
3. Bread Bowl Clam Chowder
If there is anything you should experiment serving your clam chowder in, it's a bread bowl

If you can get one like in this recipe by Christina's Cucina, then you absolutely should.
They made use of sourdough bread but you can use any one you have readily available, so long as it can be formed into a bowl with enough space to pour in you clam chowder, it will do the job fine.
If you also have some reservations about the heavy amount of cream used in most clam chowder soups, then this recipe will work for you. Follow the addition process carefully, and you will get desired results.
Four Sides For The Clam Chowder
1. Rolls
Instead of serving your regular bread as a side with you clam chowder, try baking up some rolls. This gives you the option of making it as soft or chewy as you want and it plays to your advantage if you will be having guests around.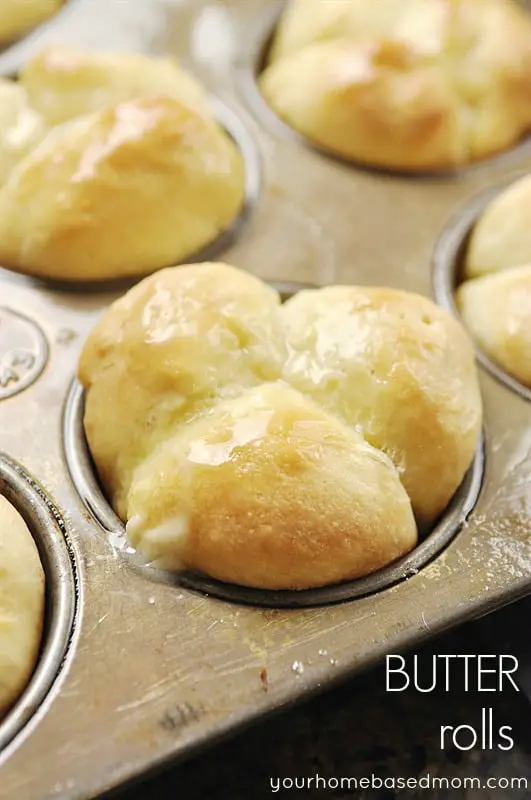 This recipe by Your home based mum is very buttery hence the name "butter rolls", the colour looks bright and inviting, and I like the whole butter dipping and rolling.
2. Kale Salad
With all the cream that comes with your clam chowder, it wouldn't be so bad to pair up with some vegetables, and this kale salad by Alaskafromscratch is pretty convincing.
I love the vibrant green colour that comes from chopped kale, and the combination with oranges and goat cheese is lovely, all you have to do is make the dressing impressive like it is done in the recipe and you will have comments rolling in.
3. Cornmeal Pancakes
This goes will with both the New Zealand and Manhattan clam chowder. If you are up for some homemade pancakes, then go for the recipe by The Breakfast drama queen.
Look at those pancakes! They look tasty at a glance. Another plus is that it is entirely gluten free, so if you're on a gluten-free diet, this should be affixed to your staples.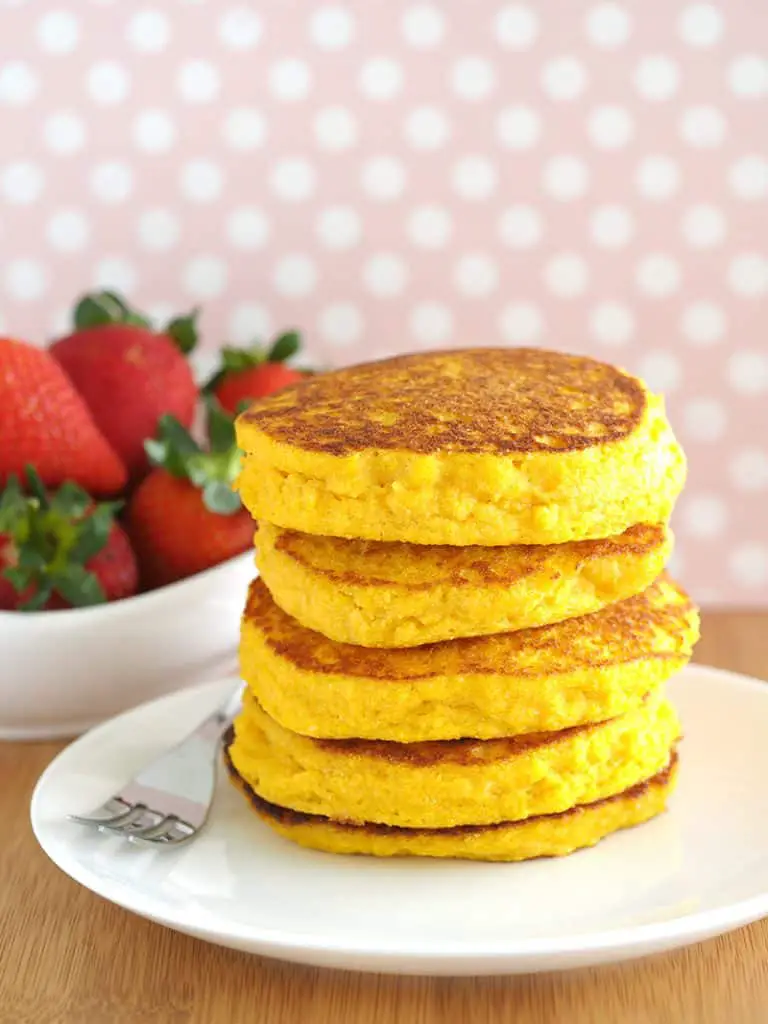 The pumpkin puree in it further adds to the bright yellow colour of the pancakes making it so appetising and brings out the taste and flavour. Try it out and give your feedback.
4. Corn on the cob
Of course I must have corn on the cob with my clam chowder. Not only is it not time-consuming to get all done and set for serving, but it is also a healthy pair especially for the New Zealand clam chowder.
You can have it any way you like, roasted, cooked or oven-baked. I prefer a simple grilled corn like the one in this recipe by My fearless kitchen.
Wrap up your corn with a good foil and toss it on the grill, a perfect side dish doesn't get better than that when you are under pressure for time.
Time To Serve!!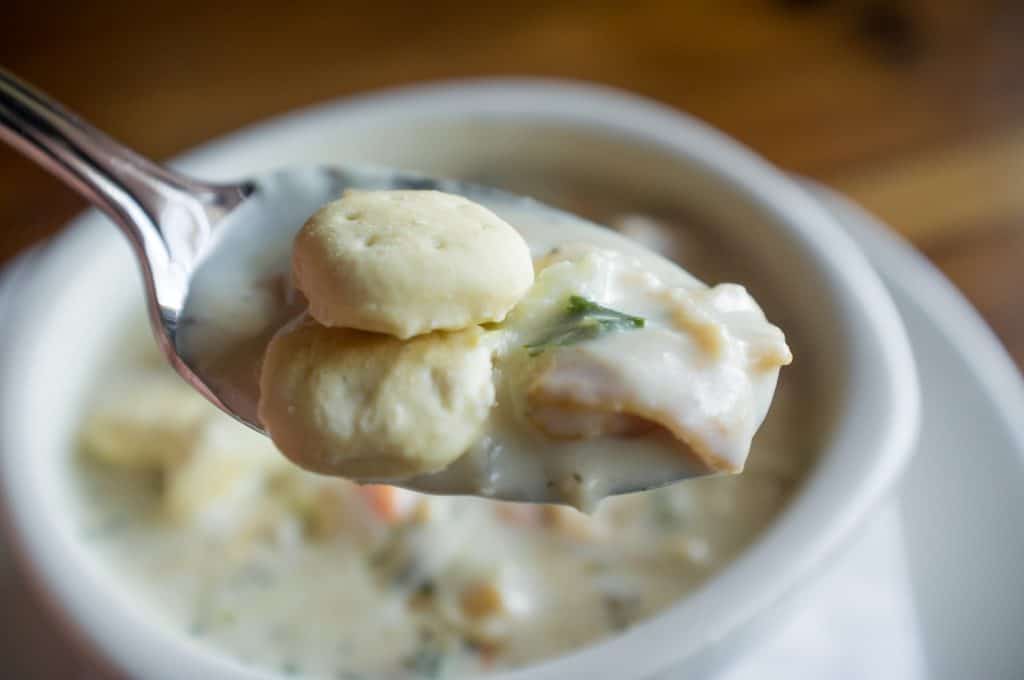 Clam chowder is a dish a lot of people generally find intimidating, probably because of the combination of ingredients or fear of having it too thick or watery.
The important thing in cooking clam chowder is your preference, decide exactly how you want your soup to turn out before you set out to cook and go for it also bearing in mind what you have planned out for a side dish. For a cookbook with numerous chowder recipes, take a look at this by 50 chowders.