My 4-year-old's favorite outing is to our local science centre. After exploring, we always get a cup of soup from the cafeteria and share it between the two of us. It's a sweet little tradition that I treasure (and I love that she always asks for soup instead of being tempted by the hot dogs, pizza, and other less-than-healthy foods available).
Every culture on Earth, every cuisine, makes soup. A rich, steaming soup is the best warm-up in the winter; a brothy, veggie-rich soup is great medicine if you're sick; and a light or even cold soup is a simple meal for a hot day.
In this post, I'll share a variety of soup recipes, and then take a look at some of the best cookbooks if you're looking to really up your soup game. Feel free to skip right to the cookbooks—clink the links below to see the latest prices and reviews on Amazon.

Type
Based on Seasonal Ingredients
Tips for Soup Making and Delicious Recipes
Vegetarian, meaty, light, thick, creamy… the options are truly endless with this seemingly simple genre of food. It's an easy type of food adapt if you need to accommodate specific dietary needs. Soups usually freeze well, too, so I love making a double batch so I can save some for a busy day when I don't have time to make dinner.
An important factor in making a delicious soup is its liquid base, the broth. Most soups start with some sort of stock. If you are vegetarian, a recipe that calls for a meat-based stock can easily be made vegetarian by subbing in a veg-based stock (I recommend mushroom instead of beef and vegetable instead of chicken).
You can get stock cubes or canned broth, but I really love to make my own stock using my slow cooker. After roasting a chicken, for example, I put the carcass along with some carrots, celery, and onion into the crock pot, cover with water, and let it simmer away for about 24 hours. You could easily do the same with beef or pork bones, vegetables only, or mushrooms to make different types of stock.
Here's a video showing you how to do it!
Best Soup Recipes
I love Vietnamese Pho soup. Light and tasty, but flavorful—the secret is definitely in having a good broth.
This is a great little recipe that offers a perfect way to use up some left over chicken. Letting the chicken simmer in some stock creates a rich, tasty base for the noodles, bean sprouts, and herbs that are the signatures of Vietnamese pho. This is a comforting choice if you've been feeling not-so-great and need something liquidy and light.
Watch how Pho is made in this Vietnamese street stall!
This chicken soup is great for anyone looking to lighten up their diet after the holidays or a decadent trip. With vegetables, chicken, beans, and orzo, it's a pretty complete meal on its own and would be a perfect chicken soup if you're suffering from a cold or other sickness.
As with many soups, you can play around with the specific ingredients, but I think the highlights here are the orzo, the green veggies, and the splash of lemon to add some brightness to the dish.
French onion soup is high on the request list of my Quebec-native husband. This is definitely one of those soups where the stock is everything.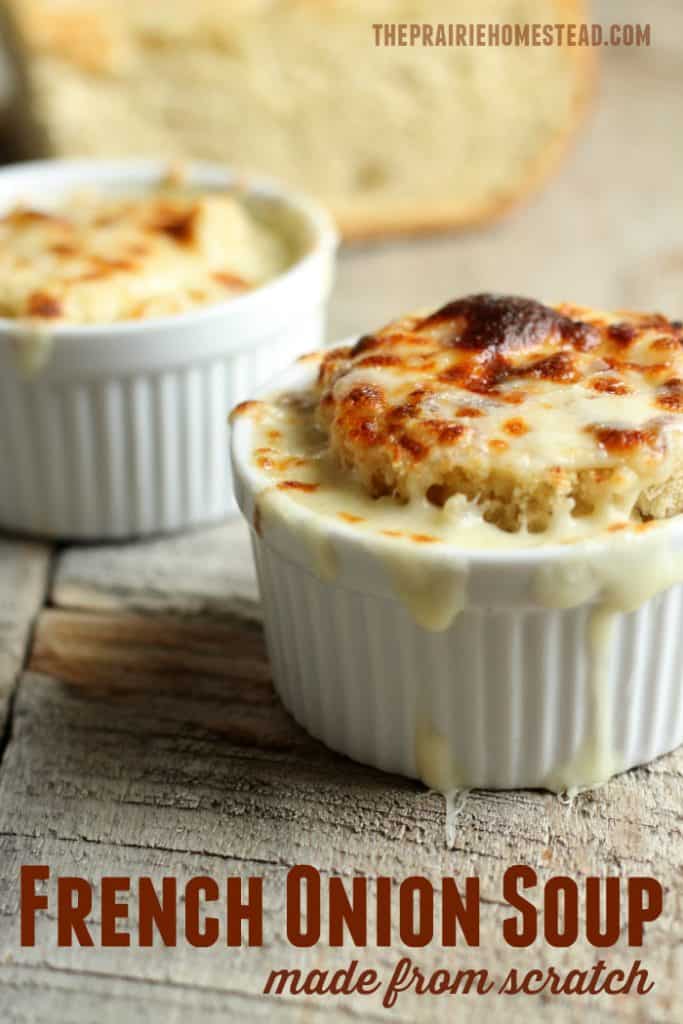 This preparation is pretty classic, including the pièce de résistance—the topping of crusty bread and golden-broiled, melty Gruyere cheese. If you don't have oven-safe bowls for this step, you can simply make your cheesy bread slices in the oven and then put them on top of your soup.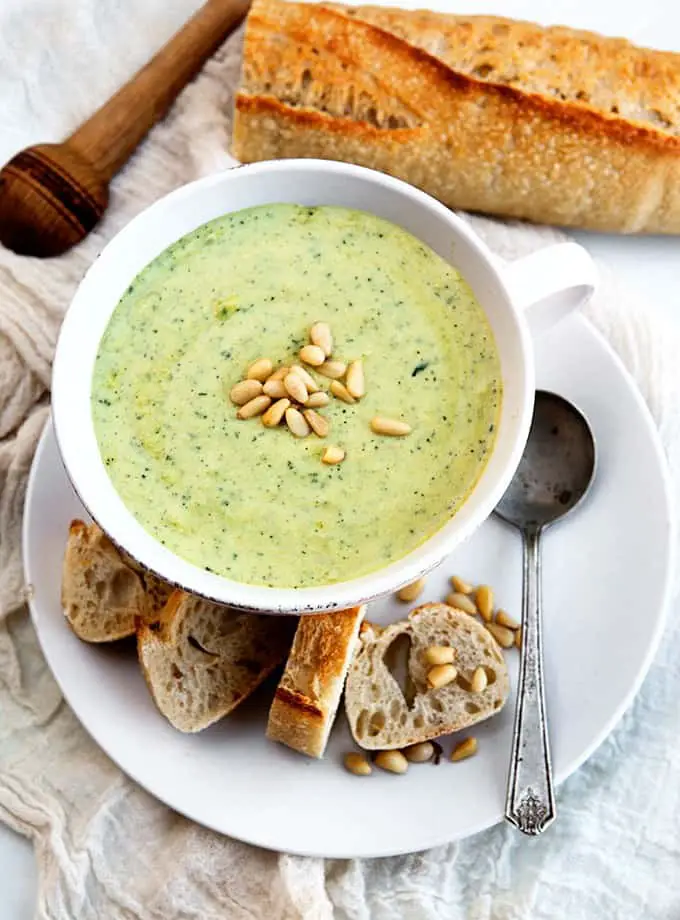 This is one of my personal favorites. It comes together pretty quickly thanks to the quick-cooking zucchini, but is oh so tasty. Served with crusty bread and a salad, it's a lovely summer dinner.
The zucchini cooks in your pot with some stock, and then you puree it a blender once it's tender. A quick roux in your pot brings the creaminess to this soup once you add the zucchini blend back in. It's light but very flavorful.
I'll admit, I've not made gazpacho myself but I love this tomato-based, cold soup on a hot summer day. This is definitely the recipe I will try.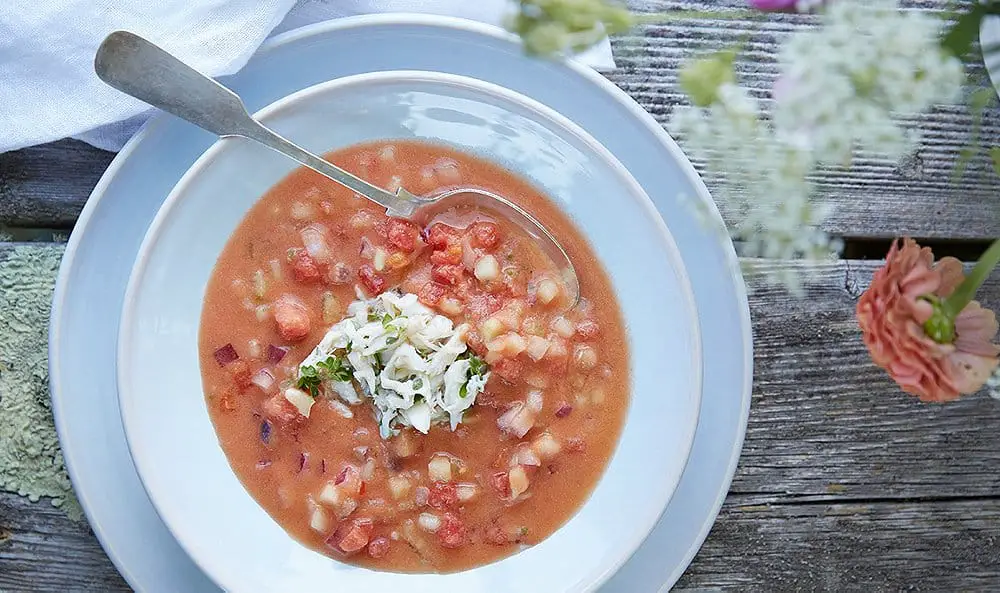 I love that this recipe includes photos to guide you through the dicing techniques for all of the vegetables. I've had gazpachos where the veggies were clearly just zipped through a food processor, but I think this slightly chunkier version is the right way to do it. The crabmeat garnish sounds heavenly, but you could easily skip that if it's not available or desired!
This hearty soup includes a variety of fresh and frozen vegetables and barley tossed into the slow cooker. She notes that you can easily sub in different vegetables, depending on what you have on hand or what you're craving.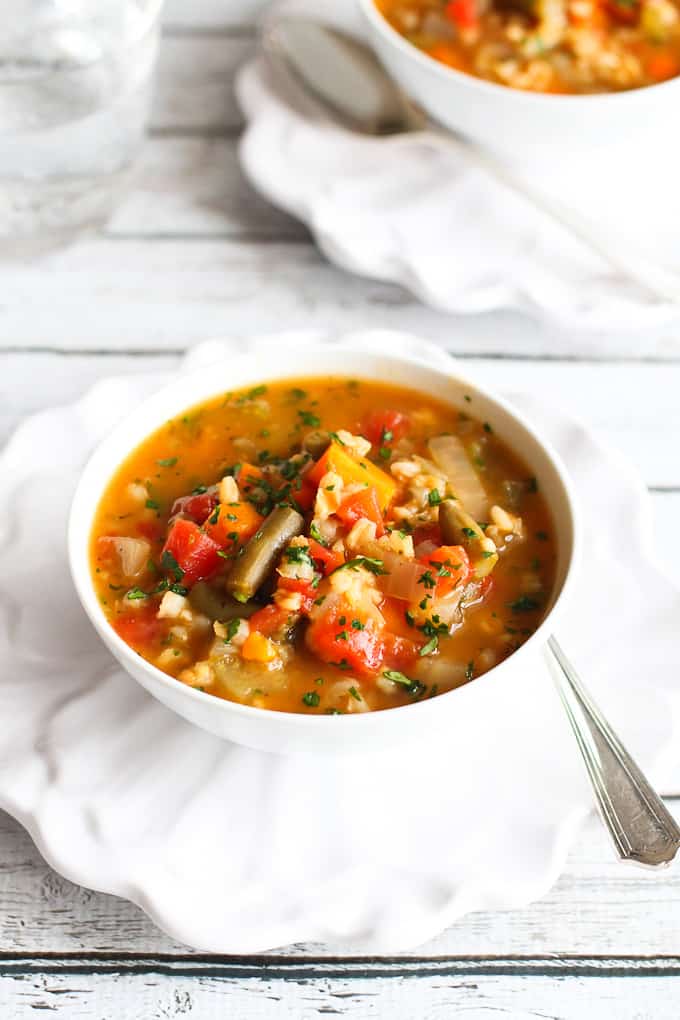 This really highlights the versatility of soup and just how easy it is to experiment to come up with your own creation. She also notes that a big pot of soup like this will give you lots of leftovers—great for lunches or to put in the freezer for future meals!
This is one of my favorites. It is creamy and tasty—and easy. The recipe calls for a slow cooker and an immersion (stick) blender, but you could easily make it on the stovetop and blend it in a stand-alone blender.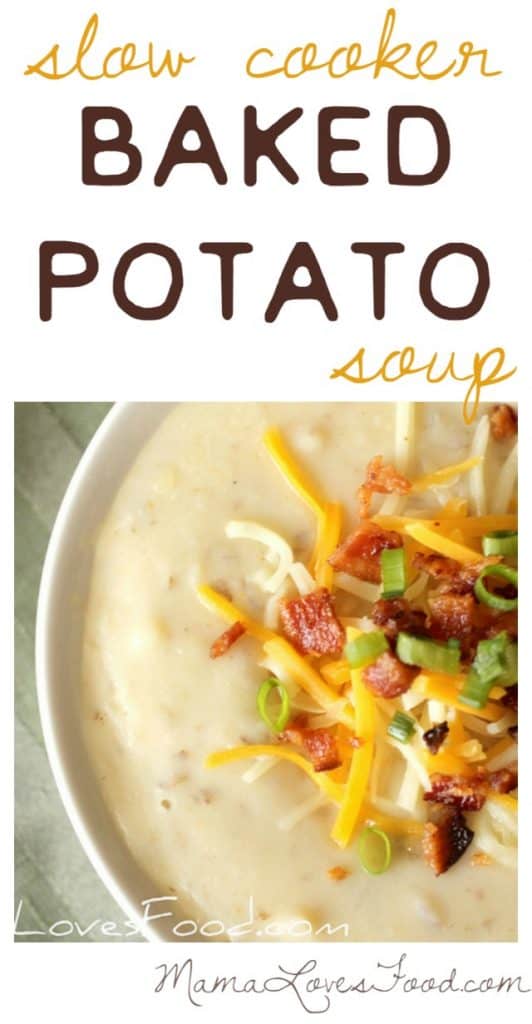 This one consists simply of chicken stock, potatoes, onions, garlic all simmered together. When they are tender through, you blend cream cheese into the mix. It's as yummy as it sounds. And of course, the toppings really make it—sour cream, cheddar cheese, green onions, bacon bits… get creative!
Best Soup Cookbooks
I love the versatility of soups—how you can easily swap out ingredients and experiment. But without some guidance, you may run the risk of "creating" very similar soups each time you get out your pot. So let's take a look at some cookbook options to expand our soup repertoires a bit.
by Marjorie Druker and Clara Silverstein –
This book is written by the chef of New England Soup Factory, a beloved Boston restaurant. Druker claims to take favorite foods and adapt them into soup form, which is how you end up with innovative soups like ones based on Spanakopita or Eggplant Parmesan. Cooks find the recipes are fairly simple, well-tested and reliable.
by Leslie Kaul. et. al. –
Daily Soup was a Manhattan, NY, chain of soup restaurants. Though the chain no longer exists, their recipes live on in this cookbook. This collection has a variety of well-known to more innovative soups and stews. Some people find the recipes to be a bit time-consuming, calling for lots of preparation and many ingredients.
by Kate McMillan –
With 365 recipes, the variety in this book is huge, including cold soups and fruit-based soups. The recipes are organized by season, and there's also a useful index to help organize such a large volume of recipes. Some of the recipes are a bit complex—advanced planning is recommended. This is the book if you simply want to add a large variety of soup options to your meal plan.
by Victor D'Avila-Latourrette –
Isn't soup exactly what you'd expect to be served in a monastery? This collection focusses on seasonality—both ingredients and preparations that are seasonally-appropriate. The recipes are classic and simple, calling for common ingredients that most cooks will have on hand. If you're looking for easy soups, this is the one.
How to Narrow Down the Choices?
All of these cookbooks sound great. I love the idea of Twelves Months of Monastery Soups. Striving to use seasonal ingredients is a lasting trend in food, and this book also offers a large variety. If I wanted to get creative with my soups, to make new and surprising creations, I'd definitely go for New England Soup Factory Cookbook.
What's your favorite soup recipe or cookbook? Let us know!