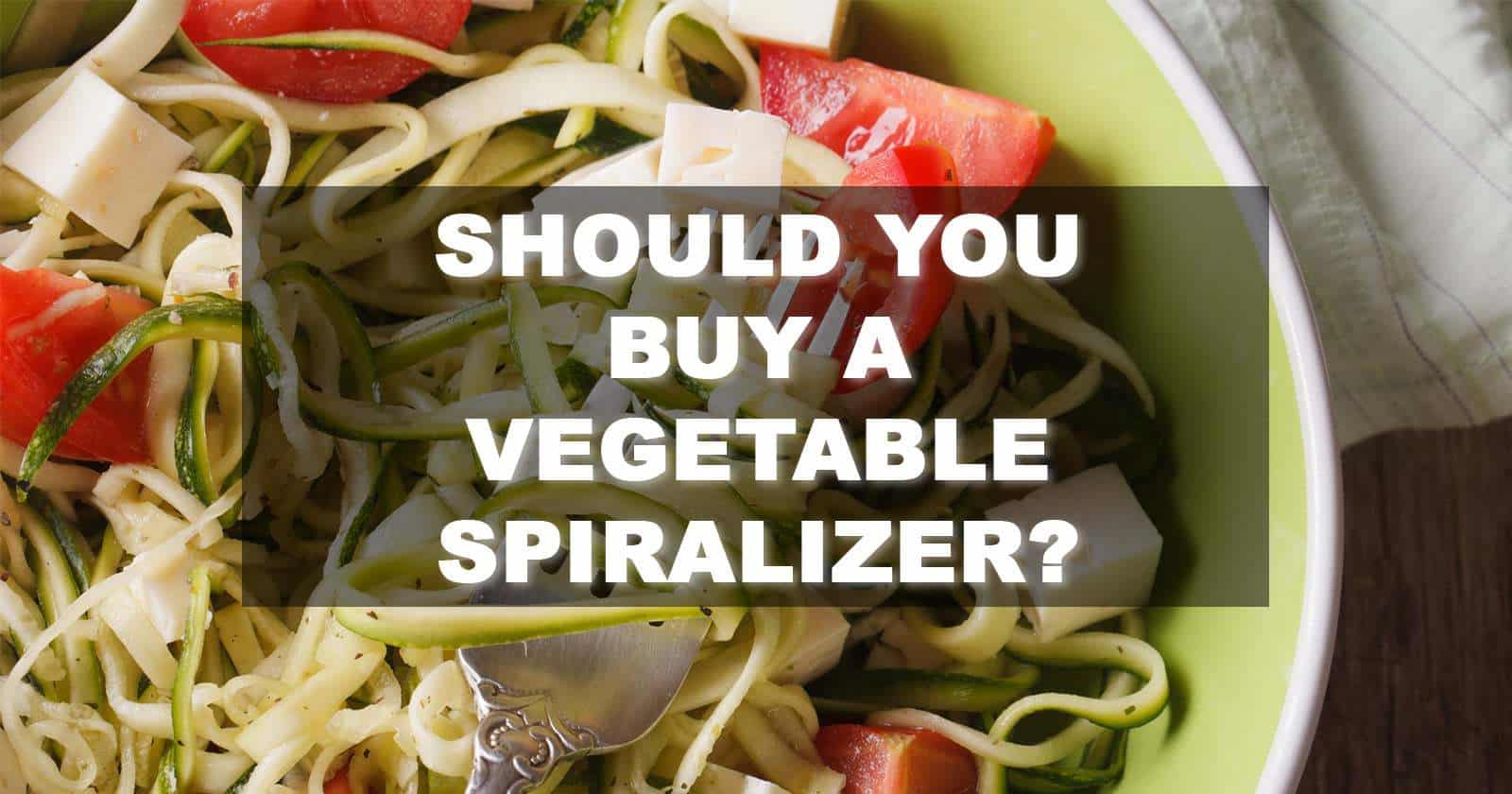 The spiralizer has gone from a late-night TV infomercial product to one of the biggest cooking trends in recent history. They provide a perfect alternative to pasta at a time when many are turning to Paleo or other low carb diets.
But, is a spiralizer right for you? There are a few factors to consider.
Spiralizer Tri-Blade Vegetable Slicer Review
Pros
On the plus side, they are a great way to add more vegetables to your diet. Zucchini, potatoes, carrots, and peppers are just a few of the options for vegetables that can be spiralized. They are easy to use, and demonstration videos are prevalent online.
Popularity and brand competition are also driving down prices. You can now pick one up on Amazon . As you'll see in a minute, there are tons of recipes and cookbooks out there so you will never be short on inspiration. Many traditional pasta dishes like spaghetti and pad Thai are getting a spiralizer makeover.
Cons
However, the spiralizer might not be for everyone. Not every vegetable can be spiralized and most recipes call for using zucchini or squash as a base. If you are not a van of those, then maybe it's not for you
Just like any piece of kitchen equipment, the spiralizer would take up space in the kitchen and require at least a little bit of a learning curve. It' also not very useful for anything beyond making noodle-like shapes out of vegetables. You could achieve a similar result using a mandolin or other type of thin-blade slicer.
Available from Amazon.com
Ready to Get Started?
Vegetable Spiralizer Recipes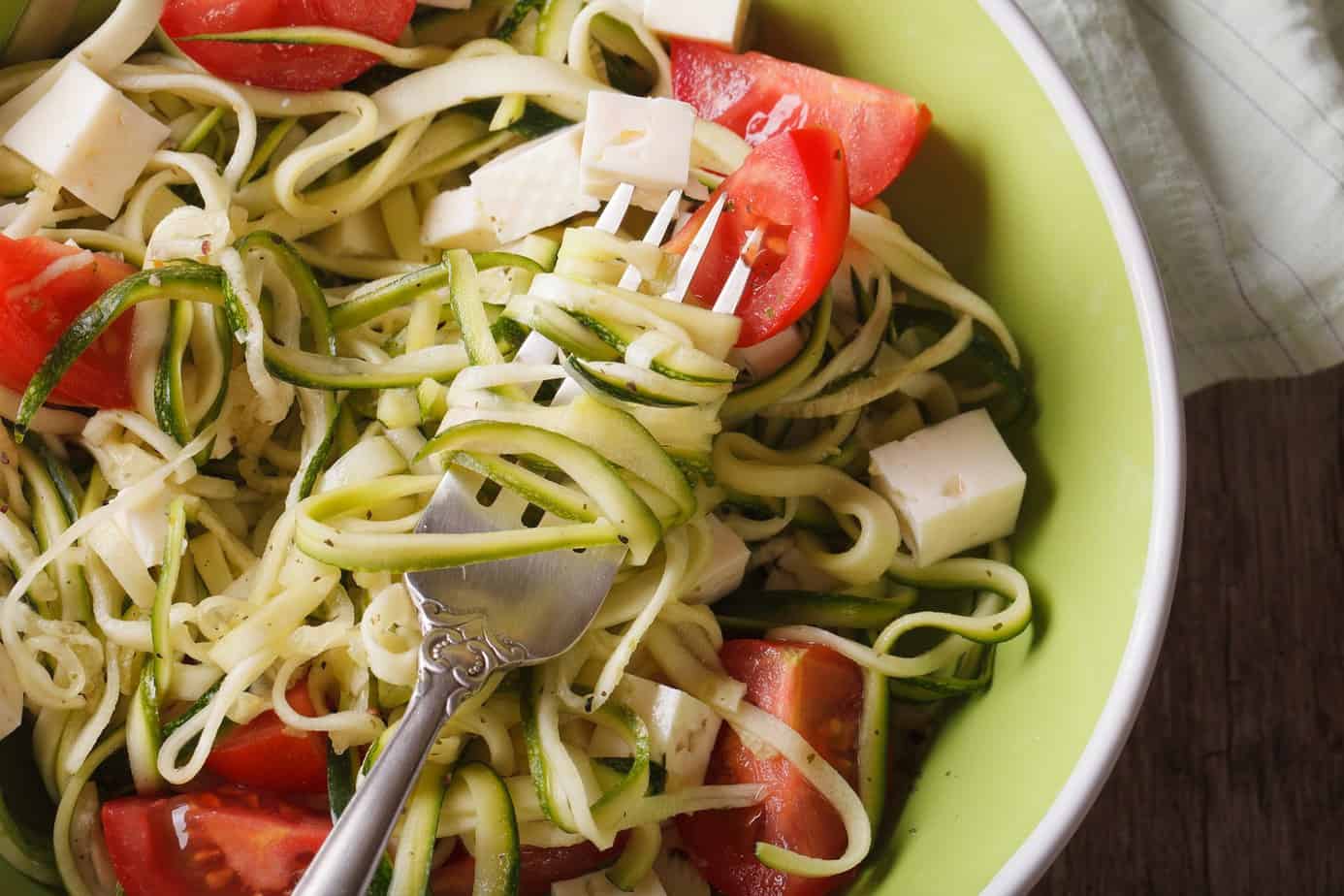 If you decide to purchase a spiralizer,  your first inclination may  be to recreate all of your favorite pasta dishes with vegetable noodles. That's certainly possible, but here are some recipes to help you get started and think outside of the box: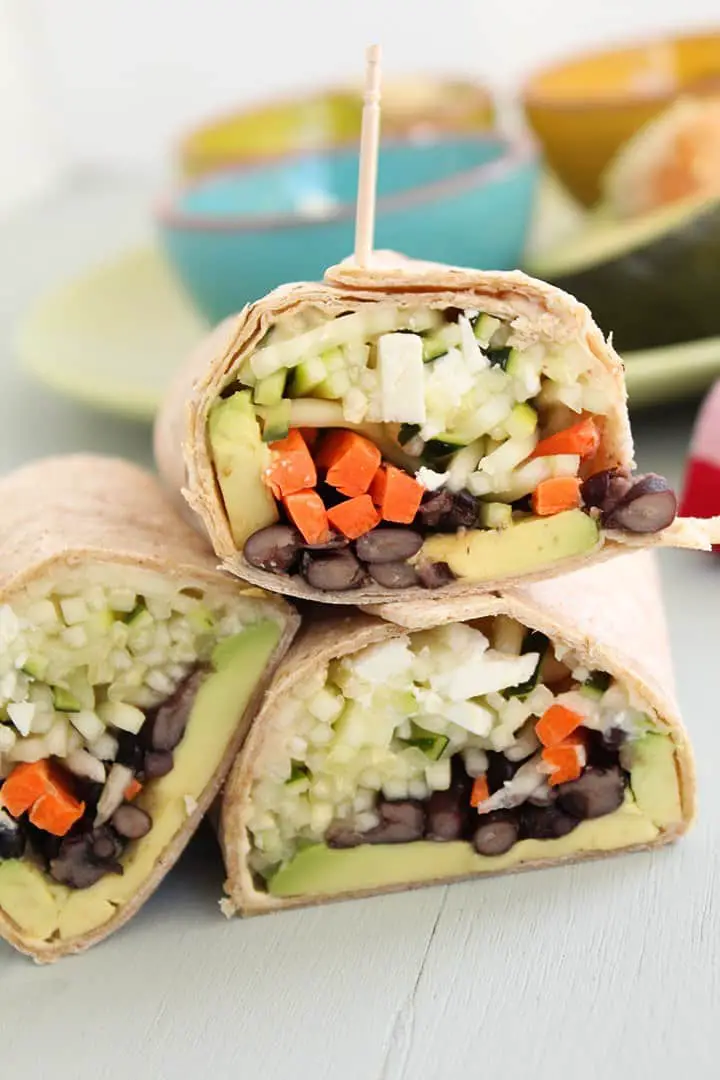 This is a basic recipe that any beginner spiralizer can master. Raw vegetables are easier to work with than cooked vegetables, and this wrap is packed full of healthy goodness. You can add cabbage, carrots, sprouts, or whatever vegetables you like to a whole wheat wrap. A Greek yogurt "mayo" brings the flavors together and provides a creamy contrast to the crunchy vegetables.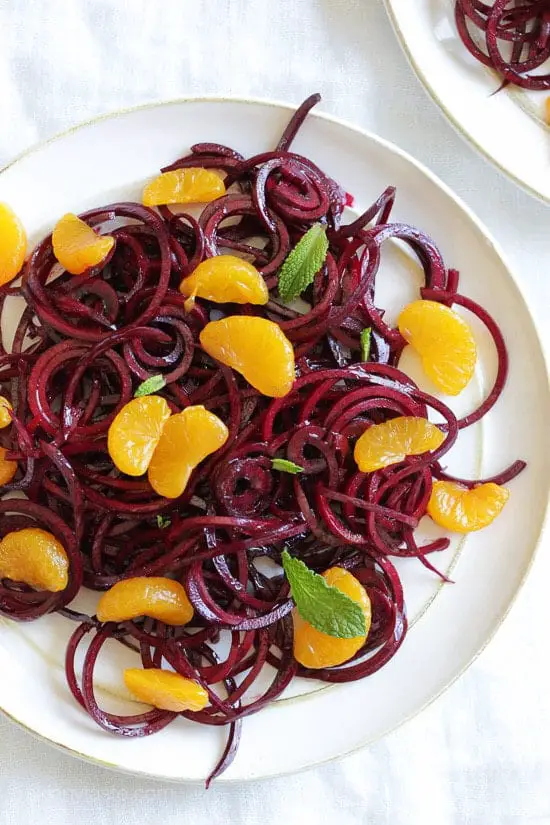 Many spiralizer recipes focus on zucchini, which can quickly become repetitive. This beet salad recipe is a wonderful change of pace. If you think that you do not like beets, try them raw! They take on an entirely different flavor and texture than when they are cooked. Mandarin oranges and mint add complementary flavors to balance out this healthy raw vegetable salad.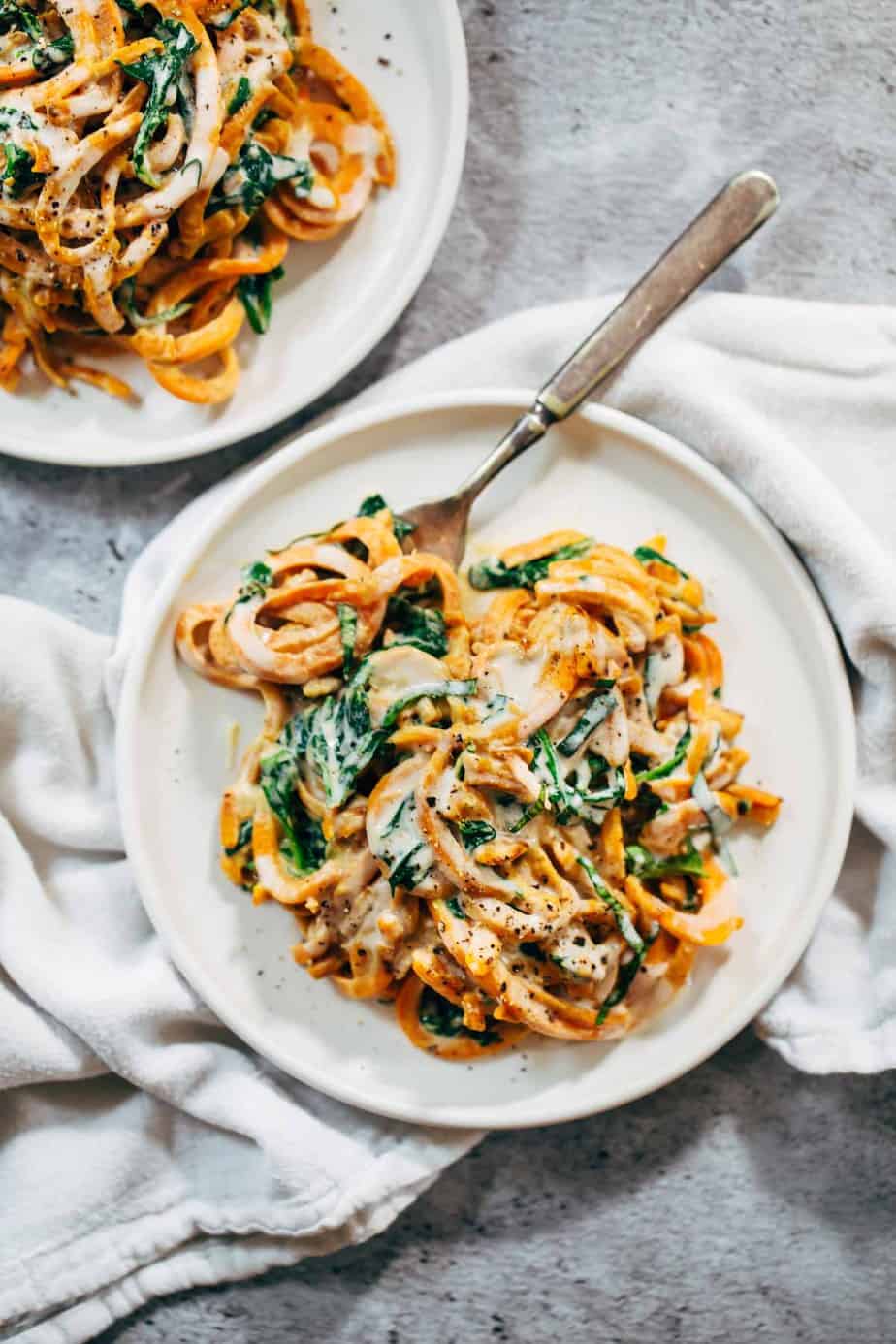 Big, sturdy sweet potatoes make for a great spiralizer vegetable, and this dish pairs them with a rich cashew cream sauce that you will never guess is vegan. Serve these "noodles" as a side or on their own as a main course. Carnivores can customize the dish by adding bacon or serving alongside another protein. Or, you can add your own herbs and spices to give more flavor to the creamy cashew base.
An Italian classic is reinvented with spiralized zucchini instead of the traditional spaghetti or linguine. Cover the zoodles in your favorite pasta sauce and top with a cheesy breaded chicken breast and you won't even remember the carbs are gone. The dish is further lightened up with the use of Greek yogurt instead of cream.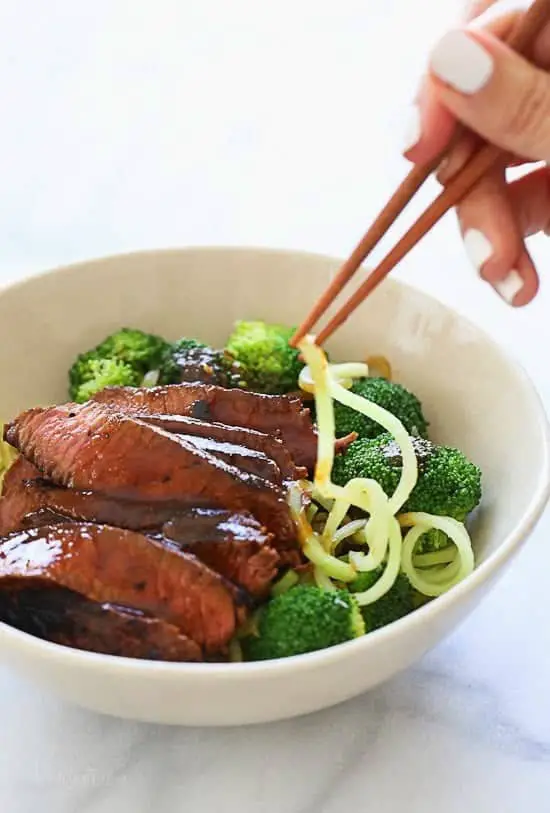 Consider this spiralized recipe before you put in your next Chinese food takeout order. This quick and healthy option contains marinated sirloin steak with broccoli and spiralized broccoli noodles in a tasty hoisin sauce. Broccoli stems that would normally be discarded are the basis of the spiralized noodles in this dish, so it's as resourceful as it is delicious.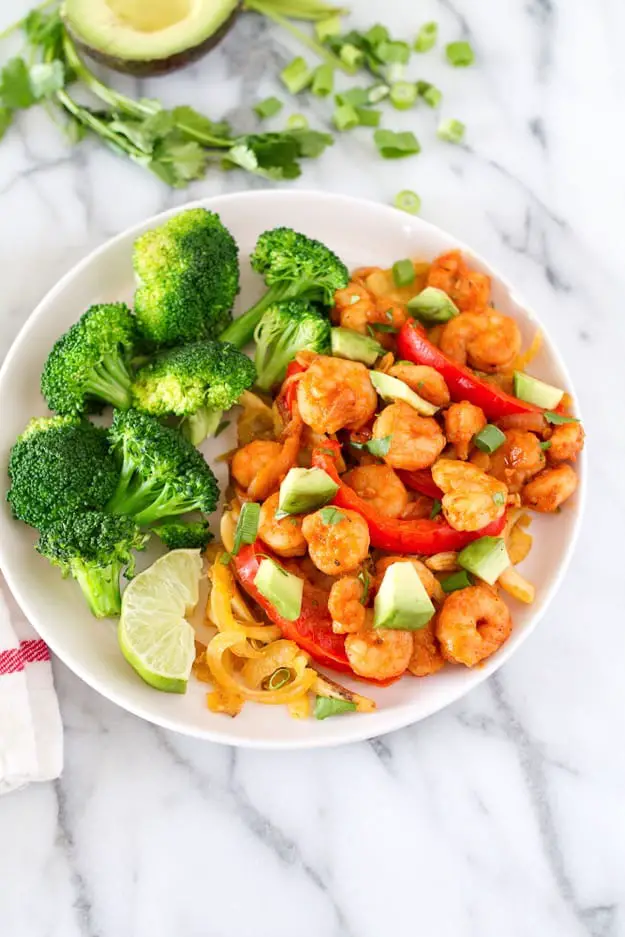 Plantains are part of the banana family and are a little more firm and fiber-rich than their fruity cousins. The spiralized noodles crisp up nicely when sautéed in a little coconut oil and make a crunchy bed for sweet and spicy jerk seasoned shrimp. Look for plantains that are straight and mostly green to make spiralizing easier. The sweetness of the plantains provides a nice balance to the spiciness of the seasoned shrimp.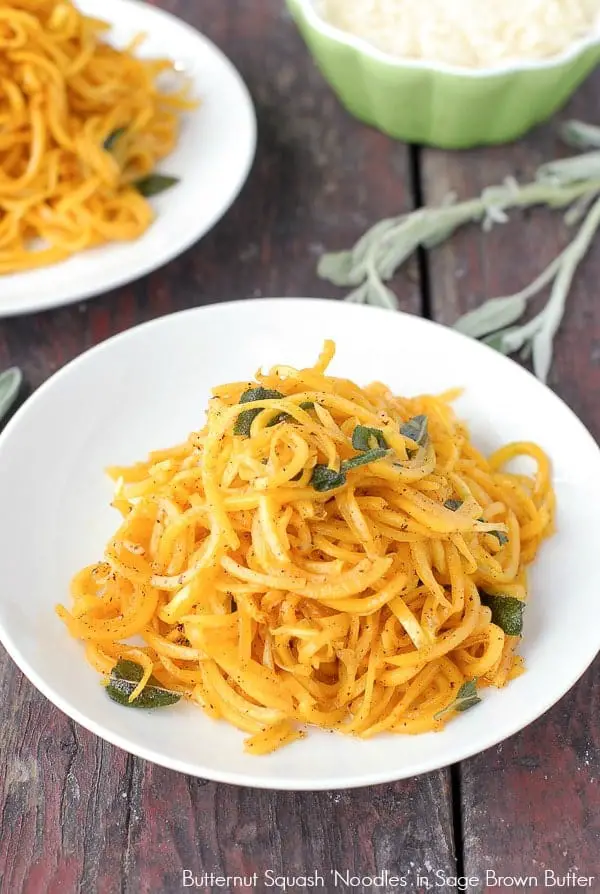 Say hello to fall with this comfort food recipe that can be prepared in less than 30 minutes. Butternut squash has a beautiful and complex flavor and is loaded with nutrients. It also has  antioxidants, fiber, and is particularly rich in Vitamin B6, potassium, and beta-carotene. It's a great canvas for a simple brown butter sauce. The nuttiness of the browned butter is a wonderful compliment to the nuttiness of the squash.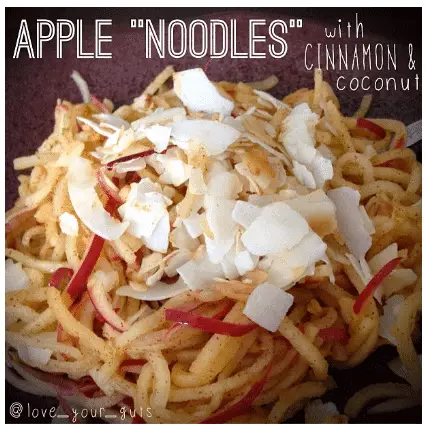 Spiralizer for dessert? Yes, please! Apples can be a little tricky to spiralize because of their cores, but if you line up the core with the center of the spiralizer it should go through with no problem. Add cinnamon and toasted coconut and you have a healthy, comforting sweet treat. Kids will love the shape of the apples and won't even realize they are eating something that's good for them.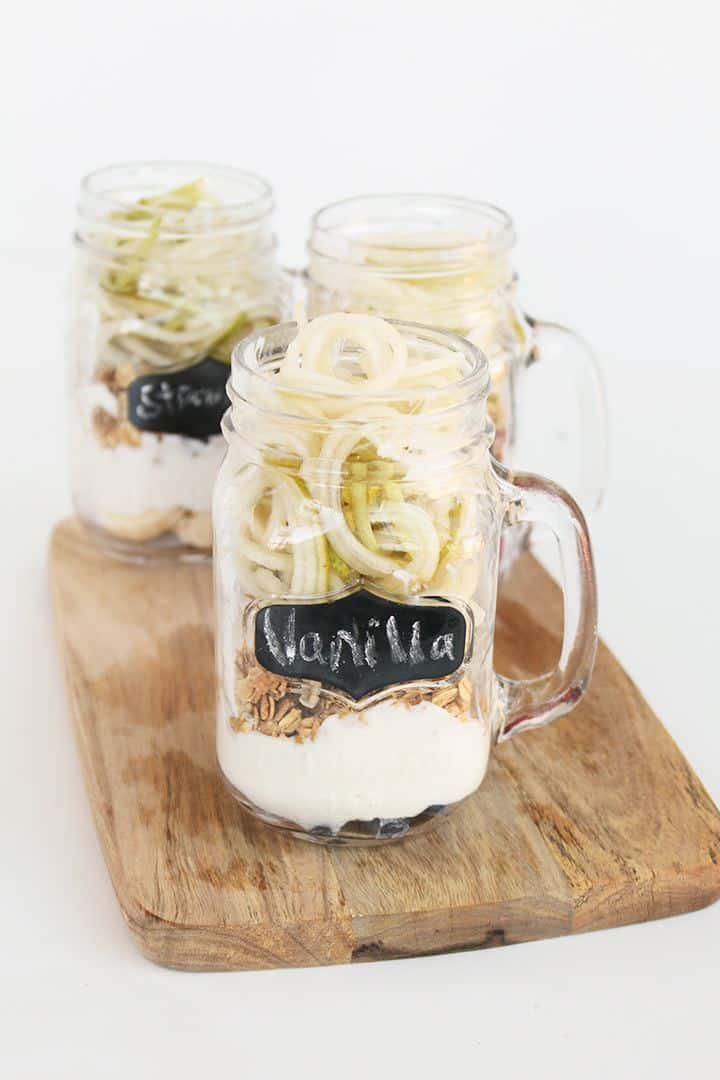 And to round out the meal groups, the spiralizer can even be used for breakfast. Much like apples, pears are a great spiralizer fruit option. Here, they are paired with Greek yogurt and granola for a delicious and healthy way to start the day. Pears have a mild flavor, which means you can mix and match your favorite yogurt and granola combinations to suit your tastes. Prepare these in advance and have breakfast ready for busy weekday mornings.
Conclusion
Amazon and other retailers have generous return and exchange policies, making it possible to try a spiralizer and return it if you are not satisfied. The only thing you have to lose is the potential to uncover a whole new set of recipes.
What are your favorite spiralizer recipes? Let us know in the comments section!